Cosmetic injectables are injection procedures that are used to enhance your appearance through neurotoxins/neuromodulators or dermal filler.
These injectables aim to boost your features and your skin through sculpting the face, improving hollowness, reducing or eliminating wrinkles, and more.  Many of our patients use these non-surgical treatments to combat signs of aging and appear more youthful.
Types of Cosmetic Injectables
While many people may only know of Botox® (which we know and love) when they think of cosmetic injections, there's actually a lot more to them! There are important distinctions between neurotoxin injections and dermal filler.
Neuromodulator/Neurotoxin Injections
Repeated facial expression through muscle movement and contraction can cause wrinkles and folds to form on the face. Collagen reduction and sun damage can also cause them. One of the best ways to treat these wrinkles and folds is with neuromodulator/neurotoxin injections.
How Neuromodulator/Neurotoxin Injections Work
Neurotoxin or neuromodulator injections refer to substances that work to make the muscle relax, in order to smooth the appearance of the skin and prevent further formation of wrinkles and folds. They accomplish this through muscle-relaxing botulinum toxin type A injections. The results are not permanent, but they last for months and you can schedule your neurotoxin "top-off" as needed from your provider.
Results
Neuromodulators/neurotoxins can create symmetry in key places of the face and reduce, eliminate, or prevent moderate to severe wrinkles and lines.
Neurotoxins like Botox temporarily reduce muscle activity beneath the skin to moderate the formation of frown lines, crow's feet, and forehead wrinkles.
Botox,  Dysport® and Jeuveau® injections can smooth moderate to severe glabellar lines (between the brows).
There are subtle differences to the formulation and results of these three types of injections at Gulf Coast Medical Center Dermatology & Aesthetics.  We can help you choose the best option for your individual needs during your complimentary consultation.
Treatment Areas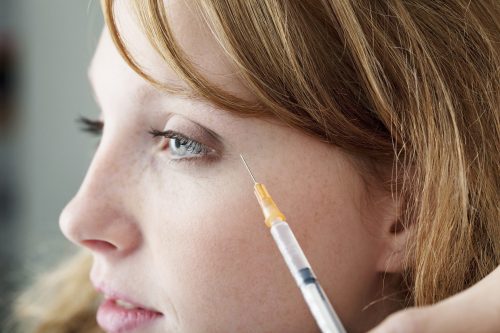 Commons areas of treatment for Botox,  Dysport and Jeuveau include:
Forehead
Crow's feet
Frown lines
Lips (for symmetry)
Benefits
There are many benefits for patients who choose to receive neurotoxin injections, including:
Reduction or elimination of fine lines and wrinkles
Prevention of future line and wrinkle formation
Improved confidence and boosted self-esteem
Younger appearance from reduced lines and creases
Treatment Process
Before a treatment, you will meet with a Gulf Coast Medical Center Dermatology & Aesthetics provider to discuss your treatment goals and how neuromodulator/neurotoxin injections can help you achieve those goals. We can also answer any questions you may have and address your concerns. Based on this consultation, we will create a personalized treatment plan to achieve your desired results.
During the procedure, you'll relax in our comfortable treatment room. We will then inject your neuromodulators or neurotoxins to the treatment area(s). This procedure is minimally invasive and should cause little to no discomfort.
After your treatment, you can get right back to your normal routine. We recommend you not lie down for four hours and avoid intense physical activity for the first 48 hours afterward. We also ask that you avoid direct sunlight for several days after your treatment.
Call us today at 727-318-5515 to schedule your free consultation.